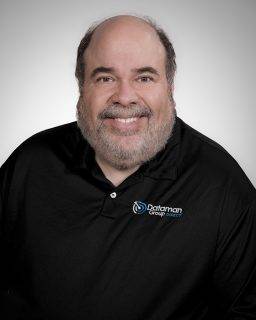 Dave Tanenblatt serves as Vice-President of Sales & General Counsel for Dataman Group Direct. We call him DataDave.
He has an undergraduate degree in Political Science from Johns Hopkins University. His Law degree is from Fordham University. Dave has considerable experience in both Marketing and Law. He has been with Dataman Group since 1986.
Dave is an expert in marketing to the Mortgage Industry. He has been instrumental in developing many of our more sophisticated databases.
Dave Tanenblatt is our very own Renaissance man. He is an accomplished musician, writer and artist with extensive performing, recording and teaching credits.
His son Jesse, is a computer wiz and guitar player. Jesse recently got married to Rachel, the new Mrs. Tanenblatt. They moved to Baltimore where they both work.
He has a grand-daughter named Charlotte.
DataDave is Dale Filhaber's brother which truly makes Dataman Group a family affair.